Bio biscuits
Almond / Almendra / Amêndoa / Amande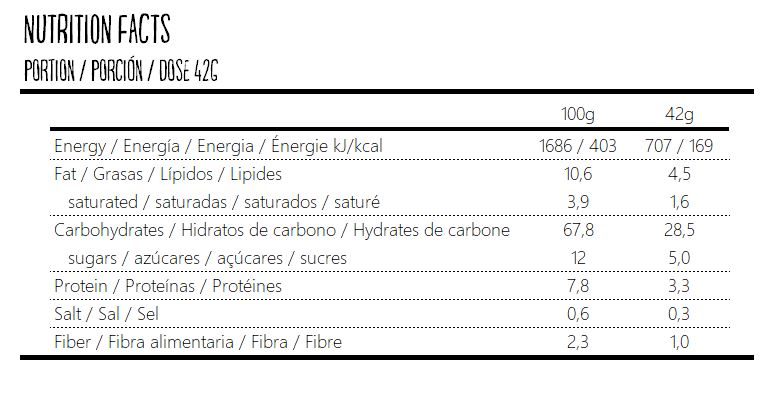 Ingredients (EN):
Only natural ingredients: Wheat flour* (wholemeal* and semisifted*), Corn jelly*, Sunflower vegetable oil*, Coconut oil*, SOYBEAN drink* [water, SOYBEAN* 8%, agave syrup*, algae-lithothamnium calcareum, vanilla extract* and sea salt], Ground almond* (3.5%), water, raising agent: sodium bicarbonate, sea salt. *Organically produced, Certiplanet PT-BIO-04, Origin: EU/Non EU Agriculture. Contains gluten and nuts. May contain traces of sesame.
Ingredientes (ES):
Únicamente ingredientes naturales: Harina de trigo* (integral* y semielaborada*), Gelatina de maíz*, Aceite vegetal de girasol*, Aceite de coco*, Bebida de SOYBEAN* [agua, SOYBEAN* 8%, jarabe de agave*, algas-lithothamnium calcareum, extracto de vainilla* y sal marina], Almendra molida* (3,5%), agua, gasificante: bicarbonato sódico, sal marina. *Producido orgánicamente, Certiplanet PT-BIO-04, Origen: Agricultura UE/no UE. Contiene gluten y frutos secos. Puede contener trazas de sésamo.
Ingredientes (PT):
Só ingredientes naturais: Farinha de TRIGO* (integral* e semi-peneirada*), geleia de milho*, óleo vegetal de girassol*, óleo de coco*, bebida de SOJA* [água, SOJA* 8 %, xarope de agave*, alga-lithothamnium calcareum, extracto de baunilha* e sal marinho], AMÊNDOA Moída* (3,5%), água, levedante: bicarbonato de sódio, sal marinho. *Provenientes de produção biológica, Certiplanet PT-BIO-04, origem: Agricultura UE/ Não UE. Contém glúten e frutos de casca rija. Poderá conter vestígios de sésamo.
Ingrédients (FR):
Uniquement des ingrédients naturels : Farine de blé* (complète* et semi-cassée*), gelée de maïs*, huile végétale de tournesol*, huile de coco*, boisson SOYBEAN* [eau, SOYBEAN* 8%, sirop d'agave*, algue lithothamne calcaire, extrait de vanille* et sel marin], amandes moulues* (3,5%), eau, poudre à lever : bicarbonate de sodium, sel marin. *Produit biologiquement, Certiplanet PT-BIO-04, Origine : Agriculture UE/Non UE. Contient du gluten et des noix. Peut contenir des traces de sésame.
Store in a dry place, protected from heat
Almacenar en un lugar seco, protegido del calor
Guardar em local seco e protegido do calor
Stocker dans un endroit sec et à l'abri de la chaleur