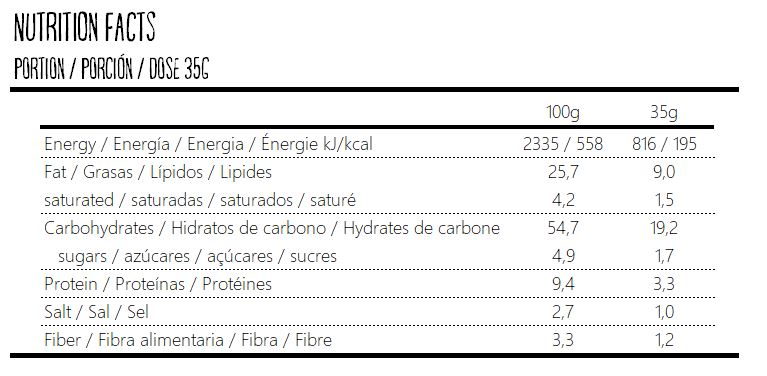 Ingredients (EN):
Roasted Cashews with Garlic: natural roasted cashews 95%, black garlic powder, lactose, common salt, maize starch, magnesium carbonate, caramel color E150c, arabic gum, glyceryl and propylene glycol triesters.
Garlic Bruschetta: WHEAT flour, extra virgin olive oil (5%), olive oil (5%), iodized salt, natural aroma, garlic powder (1%), dried basil (1%), yeast, WHEAT gluten, malted WHEAT flour, roasted malt BARLEY.
Ingredientes (ES):
Anacardos  tostados con Ajo: Castaña de anacardos tostados naturales 95%, polvo de ajo negro, lactosa, sal común, almidón de maíz, carbonato de magnesio, color caramelo E150c, goma Arabe, triesters de glicerilo y propilenglicol.
Bruschetta de Ajo: Harina de TRIGO, aceite de oliva virgen extra (5%), aceite de oliva (5%), sal yodada, aromas naturales, polvo de ajo (1%), albahaca seca (1%), levadura, gluten de TRIGO, harina de TRIGO malteada, CEBADA de malta tostada.
Ingredientes (PT):
Cajus  tostados com alho: Castanha de caju torrada natural 95%, alho negro em pó, lactose, sal comum, amido de milho, carbonato de magnésio, cor caramelo E150c, goma arábica, triésteres de gliceril e propilenoglico.
Bruschetta de Alho: Farinha de TRIGO, azeite virgem extra (5%), azeite (5%), sal iodado, aroma natural, alho em pó (1%), manjericão seco (1%), fermento, glúten de TRIGO, farinha de TRIGO maltada, CEVADA torrada malte.
Ingrédients (FR):
Noix de cajou grillées à l'ail: noix de cajou grillées naturelles à 95%, poudre d'ail noir, lactose, sel ordinaire, amidon de maïs, carbonate de magnésium, colorant caramel E150c, gomme arabique, triesters de glycéryle et de propylèneglycéryle.
Bruschetta à l'ail: Farine de blé, huile d'olive extra vierge (5%), huile d'olive (5%), sel iodé, arôme naturel, poudre d'ail (1%), basilic séché (1%), levure, gluten de blé, farine de blé malté, malt torréfié CEVADA.
Store in a dry place, protected from heat
Almacenar en un lugar seco, protegido del calor
Guardar em local seco e protegido do calor
Stocker dans un endroit sec et à l'abri de la chaleur