Nuts
Pure mix / Mezcla pura / Mix puro / Pur mélange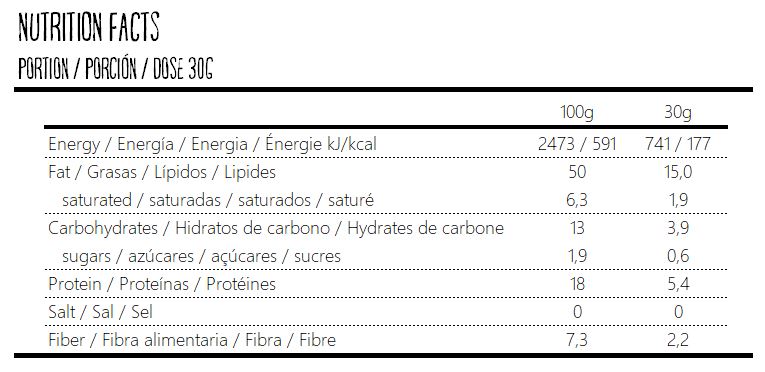 Ingredients (EN): Natural peeled pistachio, raw cashew nut, raw almond, toasted hazelnut, toasted peanut and walnut. May contain traces of: peanuts, gluten, milk and its derivatives and soy. 
Ingredientes (ES): Pistacho natural pelado, anacardo crudo, almendra cruda, avellana tostada, cacahuete tostado y nuez. Puede contener trazas de: cacahuetes, gluten, leche y sus derivados y soja. 
Ingredientes (PT): Pistacho natural descascado, castanha de caju crua, amêndoa crua, avelã torrada, amendoim torrado e nozes. Pode conter vestígios de: amendoim, glúten, leite e seus derivados e soja.
Ingrédients (FR): Pistache naturelle décortiquée, noix de cajou brute, amande brute, noisette grillée, cacahuète grillée et noix. Peut contenir des traces de : arachides, gluten, lait et ses dérivés et soja.
Store in a dry place, protected from heat
Almacenar en un lugar seco, protegido del calor
Guardar em local seco e protegido do calor
Stocker dans un endroit sec et à l'abri de la chaleur