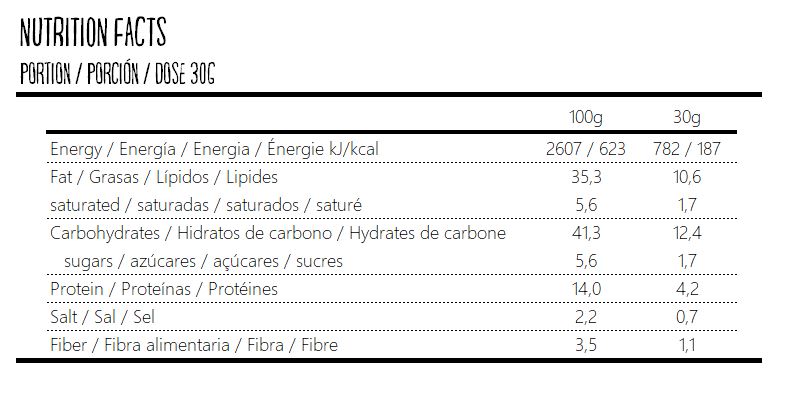 Ingredients (EN):
Chips Multigrain with Onion and Lentils:  lentil flour 48%, cornflour, rapeseed oil, rice flour, starch, onion powder 2.6%, salt, aromas, sugar, spices, parsley powder, acidity regulator: lactic acid. May contain peanut and cereals containing gluten
Cashew Sour Cream and Onion: Natural XL cashew 94%, Sour Cream & Onion aroma 5,2% (whey, onion powder, common salt, flavor enhancer: monosodium glutamate, acidulants: sodium diacetate and citric acid, yeast extract, colloidal silica, maltodextrins (corn and potato), ground parsley, cream powder, thickener: arabic gum), glucose syrup.
Ingredientes (ES):
Chips Multigrano con Cebolla y Lentejas:  Harina de lentejas 48%, harina de maíz, aceite de colza, harina de arroz, almidón, cebolla en polvo 2.6%, sal,aromas, azúcar, especias, perejil en polvo, regulador de acidez: ácido láctico. Puede contener cacahuete y cereales que contienen gluten
Anacardo Sour Cream y Cebolla: Anacardos XL naturales 94%, Aroma Sour Cream & Onion 5,2% (Suero de leche, cebolla en polvo, sal común, potenciador del sabor: glutamato monosódico, acidulantes: diacetato de sodio y acido citrico, extracto de levadura, sílice coloidal, maltodextrinas (maíz y patata), perejil molido, crema en polvo, espesante: goma Arabe), jarabe de glucosa.
Ingredientes (PT):
Chips Multicereais com Cebola e Lentilhas:  Farinha de lentilhas 48%, farinha de milho, óleo de colza, farinha de arroz, amido, cebola em pó 2.6%,sal,aromas, açúcar, especiarias, salsa em pó, regulador de acidez: ácido láctico. Pode conter amendoim e cereais contendo glúten
Caju Sour Cream e Cebola: Natural XL Cajus 94%, Aroma Sour Cream & Onion 5,2% (Soro de leite, cebola em pó, sal comum, intensificador de sabor: glutamato monossódico, acidulantes: diacetato de sódio y ácido cítrico, extrato de levedura, sílica coloidal, maltodextrinas (milho e batata), moídos salsa, creme em pó, espessante: goma arábica), xarope de glicose.
Ingrédients (FR):
Chips multigrains aux oignons et aux lentilles: Farine de lentilles 48%, farine de maïs, huile de colza, farine de riz, amidon, poudre d'oignon 2,6%, sel, arômes, sucre, épices, persil en poudre, correcteur d'acidité : acide lactique. Peut contenir des cacahuètes et des céréales contenant du gluten.
Crème sure et oignon aux noix de cajou: XL Cajus naturel 94%, arôme de crème sure et d'oignon 5,2% (Lactosérum, poudre d'oignon, sel commun, exhausteur de goût : glutamate monosodique, acidifiants : diacétate de sodium et acide citrique, extrait de levure, silice colloïdale, maltodextrines (maïs et pomme de terre), persil moulu, crème en poudre, épaississant : gomme d'acacia), sirop de glucose.
Store in a dry place, protected from heat
Almacenar en un lugar seco, protegido del calor
Guardar em local seco e protegido do calor
Stocker dans un endroit sec et à l'abri de la chaleur