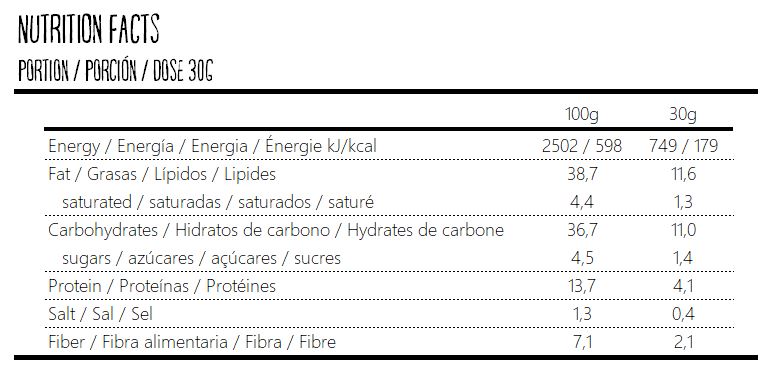 Ingredients (EN):
Multicereal Chips with Lentil and Wasabi: Lentil flour 48%, corn flour, rapeseed oil, rice flour, dried vegetables (horseradish, spinach,garlic, onion), starch, salt, dextrose, sugar, maltodextrin, flavouring, acidity regulator: lactic acid, wasabi. May contain peanuts, soy, celery, mustard and cereals containing gluten.
Nuts Wasabi: Roasted XL almond, XL Cashew 93%, Wasabi flavour 6.0% (dextrose, salt, acidifier: sodium diacetate, maltodextrin, colloidal silica, modified starch, yeast extract, acidifier: citric acid, flavour enhancer: monosodium glutamate, colourants: tartrazine, patent blue V), glucose syrup. 
Ingredientes (ES):
Chips multicereales con lentejas y wasabi: harina de lentejas 48%, harina de maíz, aceite de colza, harina de arroz, hortalizas secas (rábano picante, espinacas,ajo, cebolla), almidón, sal, dextrosa, azúcar, maltodextrina, aroma, regulador de la acidez: ácido láctico, wasabi. Puede contener cacahuetes, soja, apio, mostaza y cereales que contienen gluten.
Nueces Wasabi: Almendra XL tostada, Anacardo XL 93%, Sabor Wasabi 6,0% (dextrosa, sal, acidulante: diacetato de sodio, maltodextrina, sílice coloidal, almidón modificado, extracto de levadura, acidulante: ácido cítrico, potenciador del sabor: glutamato monosódico, colorantes: tartrazina, azul patente V), jarabe de glucosa. 
Ingredientes (PT):
Chips Multicereais com Lentilha e Wasabi: Farinha de lentilhas 48%, farinha de milho, óleo de colza, farinha de arroz, produtos hortícolas secos (rábano, espinafre,alho, cebola), amido, sal, dextrose, açucar, maltodextrina, aroma, regulador de acidez: ácido láctico, wasabi. Pode conter amendoim, soja, aipo, mostarda e cereais contendo glúten.
Nuts Wasabi: Amêndoa XL torrada, Caju XL 93%, aroma de Wasabi 6,0% (dextrose, sal, acidificante: diacetato de sódio, maltodextrina, sílica coloidal, amido modificado, extrato de levedura, acidificante: ácido cítrico, intensificador de sabor: glutamato monossódico, corantes : tartrazina, azul patente V), xarope de glicose. 
Ingrédients (FR):
Chips Multicéréales aux lentilles et Wasabi : Farine de lentilles 48%, farine de maïs, huile de colza, farine de riz, légumes secs (raifort, épinards, ail, oignon), amidon, sel, dextrose, sucre, maltodextrine, arôme, correcteur d'acidité : acide lactique, wasabi. Peut contenir des arachides, du soja, du céleri, de la moutarde et des céréales contenant du gluten.
Noix Wasabi : Amande XL, noix de cajou XL grillées 93%, arôme Wasabi 6.0% (dextrose, sel, acidifiant : diacétate de sodium, maltodextrine, silice colloïdale, amidon modifié, extrait de levure, acidifiant : acide citrique, exhausteur de goût : glutamate monosodique, colorants : tartrazine, bleu patenté V), sirop de glucose. 
Store in a dry place, protected from heat
Almacenar en un lugar seco, protegido del calor
Guardar em local seco e protegido do calor
Stocker dans un endroit sec et à l'abri de la chaleur